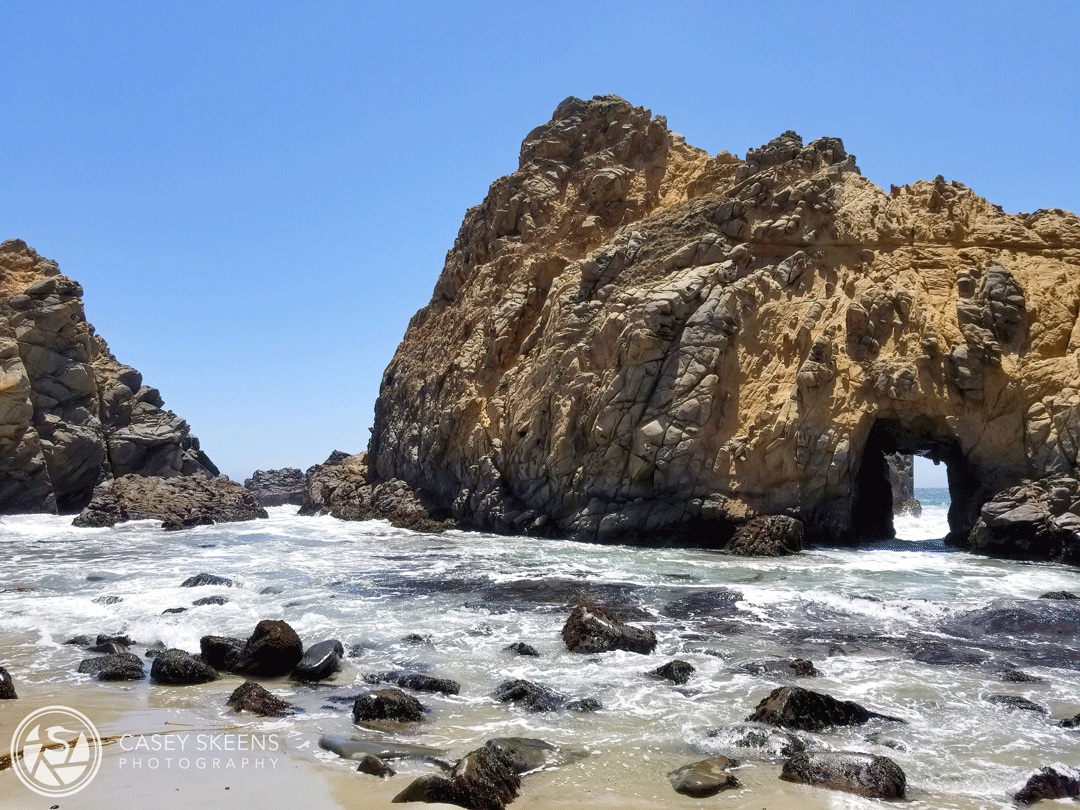 Have you ever wondered how photographers capture so many beautiful moments at the beach? 
Patience, timing, and a positive attitude are always helpful, but it helps to have a few tricks up your sleeve when it comes to beach photography! 
1. Location is Key for Stunning Photography
Luckily, beaches are some of the most beautiful places on earth. From the tropical dream of Hapuna Beach State Park in Hawaii to the mysterious rocky beaches of the Pacific Northwest, every beach has something interesting to offer.  
To perfect your beach photography, we suggest choosing a location based on a few different factors:
Ease of Access:

Consider whether the beach you want to photograph will be accessible to you, how difficult it will be to bring your equipment, and if your models (should you have them) will be able to reach it safely.

Crowds:

Be sure to read up on how popular the beach is, so that you are prepared for possible crowds.

Personal Style:

Different beaches offer different "moods." You may choose a different beach depending on if you want happy, tropical photography, or a more rugged, spooky look.
2. Choose Interesting Subject Matter for your Beach Photos
Whether you're a novice photographer or an expert, you can find something of interest and beauty at the beach. Here are a few photography tips on some intriguing subjects for your beach photography.
Local Coastal Wildlife Showcases Biodiversity in your Photos
Many amazing creatures call the coastline home. All over the world, beaches are inhabited by colorful crabs, beautiful birds, playful dolphins, huge assortments of fish, anemones, and more. According to Marine Bio, 50 percent to 80 percent of Earth's life lives in the ocean. 
Capture photos of birds in flight or catching a meal. Get up close with smaller wildlife like crabs and snails. Preserve awe-inspiring moments with mesmerizing photos of whales and dolphins, if you're lucky. Nature will never fail to inspire beautiful photography.
Don't know where to find birds and wildlife near you? 
There are many birdwatching, or birding, communities across the country. The National Audubon Society is a phenomenal conservation organization that focuses on birds. You can look on their map to find local birding chapters, bird walks, and events near you. 
If you're in the USA, you can visit the National Park Service website to find out if there are any national or regional parks near you. This is a great way to find trails where you may see birds or deer. 
Texture makes Beach Photography Pop 
The beach is home to many interesting textures. Mix and match a variety of textures for unusual, fun photos!  
Boats and coastal architecture, like lighthouses, are great subjects for showcasing texture and adding emotional depth to your photos.
The next time you're walking down the beach, try focusing on contrasting subjects within the environment around you.

Here are a few suggestions:
Shells

Rocks

Plants

Algae

Water/waves

Driftwood

Feathers

Footprints

Sand castles

Crabs

Birds

Small fish
You may be surprised how an interesting texture or subject can enhance the composition of a photo.
Use Color to Add Mood
Different color combinations in your photos can affect how people feel when they see your work. 
Think about the color palette within your photos. Which colors are you sampling? Look at the neighboring colors as well and be deliberate with the color palette in your composition.  
The red of a lifeguard shack against a bright blue ocean, for example. If you're looking to photograph a model or a wedding, a palette with pastels and tropical colors works beautifully against sand.
On the other hand, if you want to capture cold, mysterious, or somber moments in nature, try focusing on dark browns and greys of rocks along the shore. If you are at a rocky ocean, sea cliffs make excellent "moody" backgrounds. 
3. Interact with your Environment 
If you can think outside the box, you can find and create dynamic subjects for your photos within the surrounding environment at the beach. 
Easy tips for interacting with a beach environment: 
Sand has many uses:

Create sandcastles, dusty effects, or draw beautiful designs in the sand. You can even arrange props or plants in the sand to make a new element at the beach. 

Water makes for beautiful shots:

Intentional splashes, rock skipping, waves, and ripples are all great ways to show the many

photogenic qualities of water

.

Movement creates life:

From the movement of water, to the movement of a model, motion brings a sense of life to your beach photography. If you want to find motion, look for waves crashing against rock, sandpipers sprinting along the water's edge, dolphins leaping out of the water, or colorful kites dancing in the breeze. 
You can also create movement by throwing a beach ball, letting sand blow through the wind (be careful of your camera lens), asking your model to twirl in a flowy dress, or bringing a flag or towel that will ripple in the breeze. 
4. Create Dynamic Beach Photography by Going for the Interesting Angle 
Another tip for unique beach photography is to explore new angles and perspectives. 
You can find good angles on your own by turning the camera and positioning yourself differently relative to your subject.

Here are a few examples of interesting photography angles:
Ground Level
Don't be afraid to get a little sandy because these shots give the viewer a whole new perspective of the beach. (Just make sure you protect your lens and equipment from sand!)
Bird's Eye View
Let your photography climb to new heights when you get above the shore. By taking photos from rocks, tall buildings, and piers, you can not only capture more, but also highlight the wide array of colors and life in the ocean. Imagine photographing a crowded beach from above with the beautiful colors of the umbrellas and beach towels. 
Under the Water
Sometimes, the excitement of the beach is beneath the waves. With the right equipment, underwater photography can add a new dimension to your photos. For beginner photographers practicing underwater photography, try using cameras, like the Nikon Z7 or the Canon EOS R. Capture fish, reefs, anemones, and swimmers enjoying the beach life.
5. Use the Lighting and Shadows to your Advantage 
Shadows and lighting play a huge role in beach photography. Sometimes they can cause tricky editing problems, but you can also use them in your favor.

Sunsets are a go-to for many photographs because of the warm glow and gorgeous colors they create.

Similarly, sunrise is an excellent time to capture beautiful moments at the ocean.

Photograph subjects in front of the sun with lower lighting for a stunning silhouette effect. (This works for people and objects).
Reflections of light and shapes on water also make intriguing effects in your beach photography.