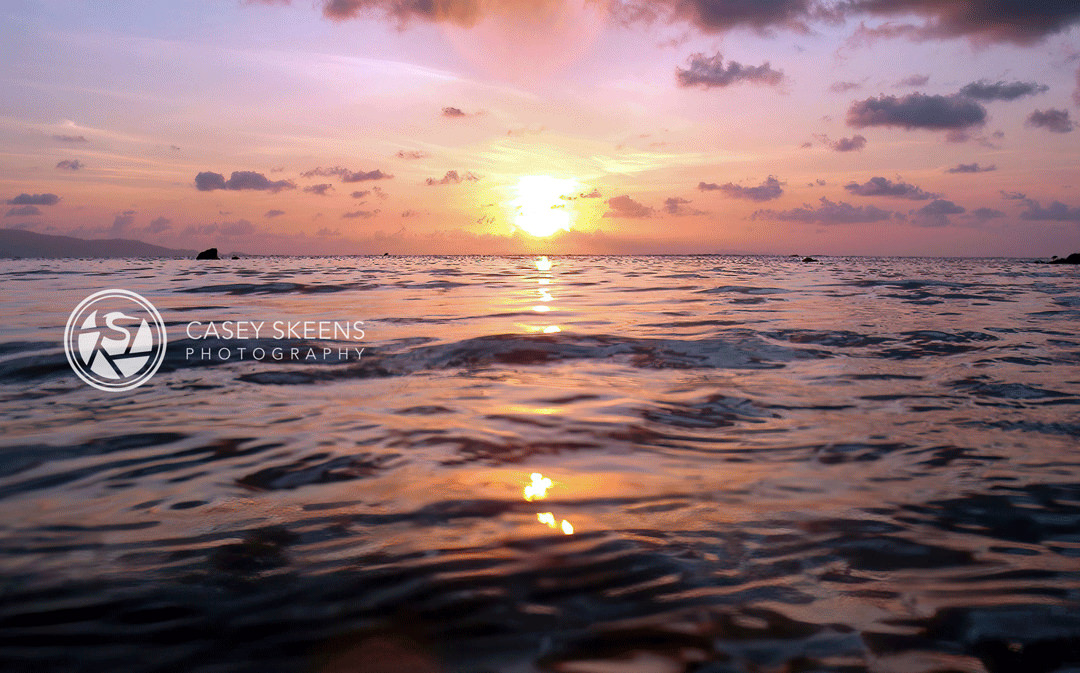 I love spending time near the ocean or on the coast and it makes for great photography.  If you love a misty morning mountain trail — or if you've ever been fascinated by the splash of water from a tap, then understanding water photography can help you raise your game. You'll appreciate the Earth's fascinating bodies of water even more. 
What is Water Photography?
In principle, water photography is about capturing the way that water refracts and interacts with light, as well as how it moves. So long as water is your predominant visual element, then it's classified as water photography.
The interplay between light and water means that water photography ranges from panoramic sunset lakes to close up macro photography of water droplets or morning dew — from the powerful flow of a river to the reflections contained within a placid puddle.  
Capturing Water Behind The Lens
Water photography is interesting because water has so many different personalities. It's sometimes soft and dreamy, other times vivacious and wild.  Once you start to appreciate water as an element with personality in your photography, you'll see that it brings its own mood and emotion to everything you photograph. 
Whenever I'm trying to capture the soft, ethereal nature of a cascading waterfall or the refracted light of a water droplet, I am reminded of how water is such a vast and dynamic subject to photograph.
Consider a beach scene along the shoreline, waves lap the sand, covering shells with their white water bubbles, only to then reveal the shells along with sea life such as snails and crabs as the wave recedes. With a slow shutter speed, a tripod, some patience and the right morning light, that shoreline scene is dreamy and inviting. 
If I head further out to sea though, the waves are crashing. If I point my camera toward a breaking wave, I'm looking for a low vantage point to capture the power of the wave and a fast shutter speed to get all that beautiful, temporary detail. It's the same body of water, but it has two completely different personalities – the crashing wave versus the gentle one lapping the shore. 
Pursuing The Art of Water Photography
Play with size and scale. To make a creek or waves appear larger, lay down and shoot low to the ground to make the water appear more vast. You can really create a sense of place in your own neighborhood by taking photos from new perspectives. 
Water photography gives the photographer a chance to get up-close or take a wide panoramic view, all the while showing off how water dances with the light. Shooting the flow of water is a challenge in and of itself, which makes it an exciting prospect. 
Understanding water photography in a homemade studio is a great departure point for working with refracted light and water droplets. Trying out water photography where you can control your environment is a great place to start. You can start with dispensing water droplets from an ice cube at home and you can take that acquired knowledge into the natural world and photograph hard rain in the forest. 
Capturing the right splash requires a camera with fast shutter speeds, a macro lens, a tripod, and an external flash. The flash on your built-in camera isn't really enough, as you're looking to maximize light refraction by using more than one light source.
I like to use artificial light as I take my photographs in high-speed burst mode from a short distance with the entire frame in focus using a deep depth of field. Once I have everything set up, I can then play around with focusing on the water droplet itself. Use an eyedropper to practice capturing one drop at a time. Just be sure to keep water away from your equipment to avoid damage. 
Challenges and Tips
The challenge with photographing water in nature is that your playback camera monitor won't give you the full picture you need to know what detail is truly being captured. For this, I'd recommend a variety of shutter speeds and capturing a lot of frames so that you can check them out later when you're on your computer. 
Capture sequential shots in burst mode using bracketing. Most DSLRs come with this feature and will allow you to capture more shots in a shorter period of time as you don't have to manually adjust the shutter speed between each shot. Getting low to the surface of the water will also improve your angle of reflection if
you're after a good reflection shot. ND filters are really useful for long exposures during the day as you can leave your camera for longer with a higher aperture setting without fear of too much light reaching your camera sensor. You can also use different filters to change what your camera "sees." Use a polarized filter when you're photographing water in a sunny environment. Take photos with and without filters to see which version you like better, or shoot both from a tripod to layer them later in photo software. 
Keep shutter speed in mind when you are deciding whether you want the water frozen in time or softer, with a more misty look. For example, taking a photograph of a waterfall with a long exposure of at least 5 seconds is a great technique if you're looking to offset the rocks with water that is smokier in quality so that you create a dreamy effect. Here you are showcasing the flow of water over a period of time, suggesting a magical quality to your location that only you and the viewer can share.
Water is elusive and reflective, which is what makes pursuing this photographic passion so worthwhile. Whether you're capturing a panoramic seascape or a quiet lake, it has a calming effect on both viewers and photographers. This is what makes it so unique and sought after. The tranquility that a seascape can bring into a space is unlike anything else. Much like water itself, water photography is all about finding that perfect flow.